Our partnership
The Oxfordshire Partnership (OP) brings together organisations from the public, private, voluntary and community sectors to focus their efforts on those things that are important to people who live in, work in and visit Oxfordshire and, more importantly, to do something about them. See below how the Oxfordshire Partnership fits together.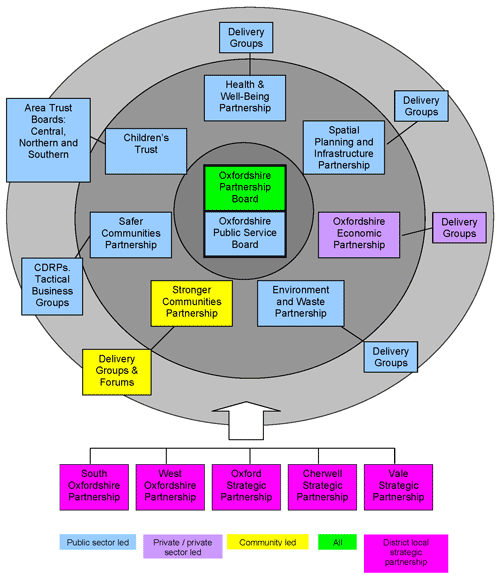 The Oxfordshire Partnership Board sits at the heart of the Partnership.
The Public Service Board deals with the detailed work of the Local Area Agreement.
A range of thematic partnerships contribute to the overarching priorities of the Partnership and to the Local Area Agreement through specific outcomes and targets. These thematic groups are inter-relating as the issues they face cross thematic boundaries.
District partnerships and local priorities are vitally important to the Partnership and are fed in directly to the Partnership Board through their representatives.
In 2009 the Partnership agreed the revised partnership governance framework. Read the new framework here (.pdf format, 100Kb). The partnership handbook (.pdf format, 103Kb) supports the governance framework and is intended to help partners implement the outcomes set out in our Oxfordshire 2030 strategy.
Related links
Oxfordshire Partnership is not responsible for the content of external websites.
Contact details
Oxfordshire Partnership
County Hall
New Road
OX1 1ND

Tel: 01865 323967
Fax: 01865 783363
Email: Oxfordshire Partnership